Wildflower Roof Turf
Wildflower & Sedum Roof Turf – Seed Specification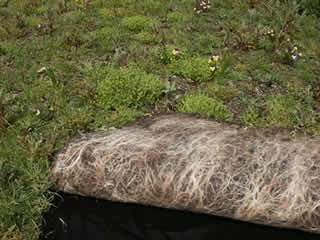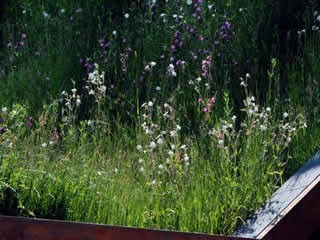 Grasses
* Crested Dogstail
(Cynosurus cristatus)
* Slender Creeping
Red Fescue
(Festuca rubra ssp.littoralis)
* Sheep's Fescue
(Festuca ovina)
Flora
* Autumn Hawkbit
(Scorzoneroides autumnails)
* Birdsfoot Trefoil
(Lotus corniculatus)
* Black Medick
(Medicago lupulina)
* Bladder Campion
(Silene vulgaris)
* Clustered Bellflower
(Campanula glomerata)
* Common Knapweed
(Centaurea nigra)
* Common Poppy
(Papaerva rhoeas)
* Common Spotted Orchid
(Dactylorhiza fuchsil)
* Common Toadflax
(Linaria vulgaris)
* Common Vetch
(Vicia sativa ssp.segetalis)
* Corncockle
(Primula veris)
* Cornflower
(Centaurea cyanus
* Cowslip
(Primula veris)
* Hoary Plantain
(Plantago media)
* Lesser Stitchwort
(Stellaria graminea)
* Musk Mallow
(Malva mochata)
* Perforate St John's-wort
(Hypericum perforatum)
* Rough Hawkbit
(Leontodon hispidus)
* Self-heal
(Prunella vulgaris)

* Scarlet Pimpernel
(Anagallis arvensis)
* Sheeps-bit
(Jasione Montana)
* Small Scabious
(Scabiosa columbaria)
* Thrift
(Armeria maritima)
* Viper's Bugloss
(Echium vulgare)
* Wild Basil
(Clinopodium vulgare)
* Wild Marjoram
(Origanum vulgare)
* Wild Pansy
(Viola tricolour)
* Wild Red Clover
(Trifolium pratense)
* Wild Thyme
(Thymus polytrichus)
* Yarrow
(Achillea millefolium)
* Yellow Rattle
(Rhinanthus minor)
Sedum

* White Stonecrop
(Sedum abum)
* Yellow Stonecrop
(Sedum elacombianum)
* Bailey's Gold Stonecrop
(Sedum floriferum)
* Mongolian Stonecrop
(Sedum hybridum)
* Pink Stonecrop
(Sedum pulchellum)
* Blue Stonecrop
(Sedum reflexum)
* Tasteless Stonecrop
(Sedum Sexangulare)
* Dragon's Blood Stonecrop
(Sedum spurium)
Soil-less Turf Specification
- Roll size – 077 x 1.62m (1.25m2)
- Weight – 18kg depending on maturity and moisture content of turf.
Biodiversity
- The turf naturally produces a bio-diverse habitat supporting birds, mammals, bees, butterflies
and other invertebrate species.
- Additionally using Wildflower Turf will help to fulfil many modern requirements: Green corridors,
BREEAM points, the Code for Sustainable Homes, drought tolerance, carbon and pollutant
capture to name but a few.
- In this seed mix there is a total of 31 flowering perennials and 3 grasses.
Sustainability
- To produce this environmentally beneficial product, every effort is made to source sustainable
Ingredients, for example, composted green waste and organic nutrients, as well as carefully
monitoring all inputs such as electricity and water.
Seed Specification
- 50% Flowers 50% Grasses