Sedum roofgardens
Plantwall also delivers components for making your own extensive roofgarden.
Based on our lightweight Hydrocell substrate we can help you create a very professional sedum roof for your garage, conservatory, gardenhouse etc.
You can buy the complete substrate mixture (roofgarden substrate with Hydrocell already mixed) or buy your Hydrocell and mix this with a standard roofgarden soilmixture of your own choice.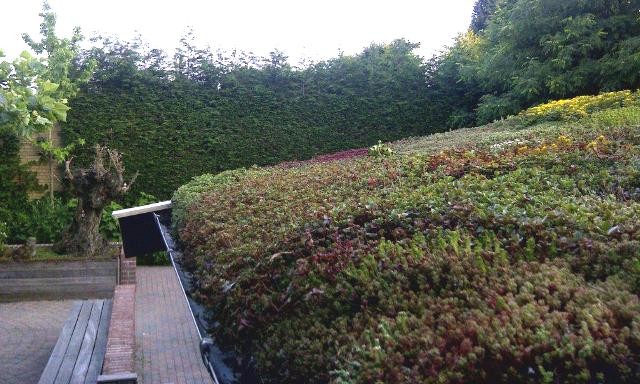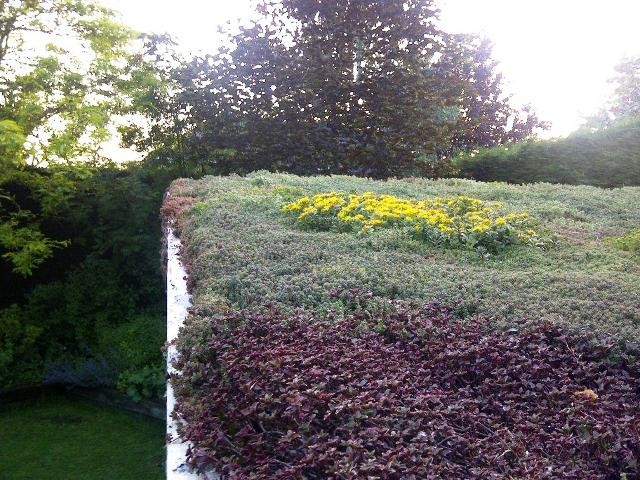 An extensive sedum roof is built up as follows:

1) Start with an EPDM sheet as first layer to protect your existing roofing material.

2) The second layer is a drainage layer consisting of our Fytonop 20 panels.
For each roof garden free drainage is essential for the quality of the plants and to avoid an
increase of weight due to unwanted water accumulation. Fytonop 20 creates a free drainage
layer of 2 cm high and you have two possible positions for the panels. You can use the panels
with the open cups downwards and create a totally free drainage structure, or you can put the
open cups upwards and create an additional water-buffering of 14 litres/m/2.

3) On top of the Fytonop drainage panels a layer of Geotextile will be used as third layer to avoid
roots growing into the drainage layer and to separate the substrate mixture of the drainage
channels as well, stopping small soil particles from being washed away into the drainage panels.
Geotextile is fully water permeable.


4) As a fourth layer, on top of the Geotextile, a depth of 3 or 4 cm of Fytomix substrate will be
advised. This relatively thin layer is enough for pre-grown sedum mats. If you wish to work with
small sedum plants you need to increase the Fytomix layer to about 5 or 6 cm depth.
A layer of 1 cm means 10 litres of Fytomix on 1 m2.

5) Finally you lay out the sedum roll or panels, or plant in the single plants.
If you use rolls or panels it is advised to allow an overlap because the basic material of the sedum
rolls/mats will shrink a little during the year.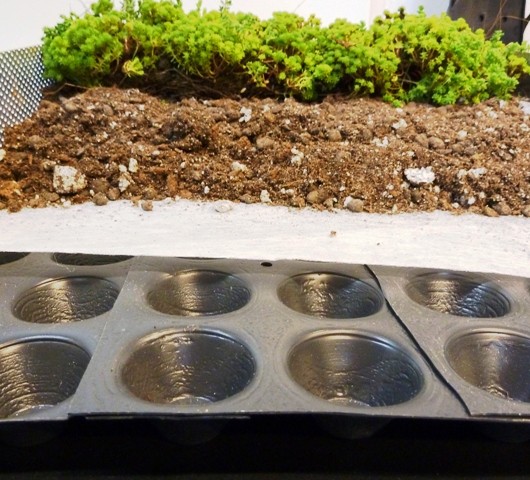 Here you see the standard layers as mentioned above.
NB: for flat roofs and roofs with a slope of up to 30 degrees, the above mentioned
working method can be used without any special considerations.